Soodus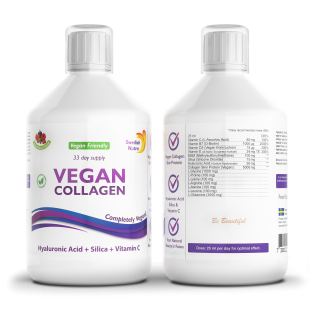 Vegan Сollagen natural berry flavour
SKU:
SNVG
EAN:
7350122360531
Brand:

Qty:
15
Delivery time:
2-7 working days
It forms the basis of the body's connective tissue and ensures its strength and elasticity.
Vegan Collagen
Food supplement with sweetener
Flavour: Natural Berry Flavour
Soovituslik päevane annus: 25 ml per day, shake well before use. Vitamin C (L-Ascorbic acid) - 80 mg(DRI 100%); vitamin B7 (D-Biotin) - 1000 µg(DRI 2000%); vitamiin D3 (Vegan from Lichen) - 15 µg(DRI 300%); vitamiin E (DL-Alpha Tocopheryl Acetate) - 24 mg TE(DRI 200%); MSM (Methylsulfonylmethane) - 100 mg; Silica (Silicone Dioxide) - 15 mg ; Hyaluronic acid (Sodium Hyaluronate) - 50 mg. Collagen Skin Protein (Vegan): L-Glycine (1500mg), L-Proline (100 mg), L-Lysine (100 mg), L-Arginine (100 mg), L-Alanine (100 mg), L-Leucine (100 mg), L-Glutamine (3000 mg) – 5000 amount per 25 ml Dose.
Ingredients: Multi-filtered water, collagen skin protein (vegan): glycine, proline, lysine, arginine, alanine, leucine, glutamine, vitamin e, natural fruit juice blend from concentrates; orange, apple, mandarin, guava, papaya, lime, mango, pineapple, grape, organic fruit and beet sugars, msm: methylsulfonylmethane, vitamin c, hyaluronic acid, natural flavour (natural aroma), natural color (natural purple potato powder), silica, freshness preserver (potassium sorbate, sodium benzoate), biotin, acidity regulator (citric acid), vitamin d: vegan cholecalciferol (from lichen).
Warnings:
Do not exceed the recommended daily dose!
Do not use the supplement as a substitute for a varied diet!
Keep the product out of the reach of children!
Comments: Free from GMOs, wheat, gluten, soy, eggs, nuts and milk. If you have any medical conditions or if you are pregnant or breast-feeding, talk to your healthcare provider before making any recommendations. Discontinue use if side effects occur.
Storage: Store in a cool place out of direct sunlight. Store in the refrigerator after opening. Use within 2 months of opening.
Net volume: 500 ml.
Best before: Look at the packaging.
Manufacturer: Swedish Nutra, Sofiedalsvägen 10, 23837 Oxie, Sweden.
Distributor: Joy of Life OÜ, www.joyoflife.ee
Sarnased tooted