Soodus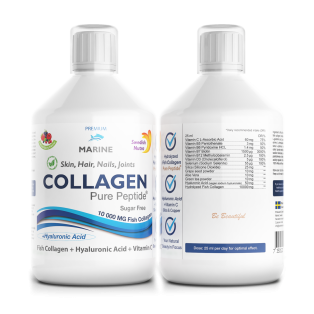 Collagen 10 000 Fish Sugar Free
SKU:
SNCF 10000 SF
EAN:
7350122360067
Brand:

Unit:
tk.
Qty:
1
Delivery time:
2-7 tööpäeva jooksul
Collagen Pure Peptide using keep your hair, skin and nails healthy, younger, thick and vibrant.

Collagen 10000 Fish
Sugar-free food supplement

Form: liquid.
Flavour: natural berry flavor.
Recommended daily dose: 25 ml once a day, shake before use. Vitamin C (L-ascorbic acid) - 60 mg (75% NRV), vitamin B5 (calcium pantothenate) - 3 mg (50% NRV), vitamin B6 (pyridoxine HCL) - 1.4 mg (50% NRV), vitamin B7 (D-biotin) - 1500 μg (3000% NRV), vitamin B12 (cyanocobalamin) - 2.5 μg (100% NRV), vitamin D3 (colecalciferol) - 5 μg (100% NRV), selenium (sodium selenite) - 55 μg (100% NRV), silica (silicon dioxide) - 25 mg, grape seed powder - 10 mg, aloe vera - 10 mg, green tea powder - 10 mg, hyaluronic acid (sodium hyaluronate) - 50 mg, hydrolysed collagen (fish) - 10,000 mg.
Ingredients: Multiple filtered water, hydrolyzed collagen types 1 and 3 (Pure Pideide hydrolyzed fish collagen) contains amino acids: L-glycine, L-proline, L-alanine, L-hydroxyproline, L-glutamic acid, L-arginine, L-aspartic acid , L-serine, L-lysine, L-leucine, L-valine, L-threonine, L-phenylalanine, L-isoleucine, L-hydroxylysine, L-methionine, L-histidine, L-tyrosine, L-cysteine), 1-ascorbic acid, sodium hyaluronate, flavor (natural aroma), natural color (natural purple potato powder), silicon dioxide, freshness preservative (potassium sorbate, sodium benzoate), aloe vera powder, grape seed powder, green tea powder, green tea powder, d-calcium dopant , sweetener (sodium cyclamate, sodium saccharin) acidity regulator (citric acid), colecalciferol, sodium selenite, cyanocobalamin. 100% natural taste and natural color.

Warnings:
Do not exceed the recommended daily intake!
Do not use the supplement as a substitute for a varied diet!
Keep the product out of the reach of children!
Comments: Non-GMO and free from sugar, wheat, gluten, soya, egg, nuts and milk. If you have any medical medications, or if you are pregnant or breast-feeding, talk to your healthcare provider before use. Stop using if side effects occur. Keep in a cool place protected from direct sunlight. Store in the refrigerator after opening. Use within 2 months of opening.

Net volume: 500 ml.
Best before: Look at the packaging.
Manufacturer: Swedish Nutra, Sofiedalsvägen 10, 23837 Oxie Sweden.
Distributor: Joy of Life OÜ, www.joyoflife.ee
Similar products