Soodus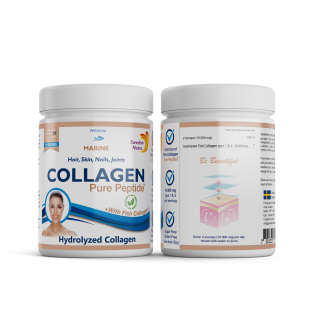 Collagen Powder 10000 Fish
SKU:
SNCF Powder
EAN:
7301337323422
Brand:

Unit:
tk.
Qty:
13
Delivery time:
Within 2-7 working days
Improves the health of skin, hair and nails and helps relieve joint pain. Gluten and sugar free, no yeast.

Collagen Powder 10 000 Fish
Food supplement

Swedish Nutra Collagen Powder is a powerful protein made up of aminos acids, or peptides. Improves skin health and helps relieve joint pain. Swedish Nutra Collagen Powder contains nothing else than fresh water fish collagen type I and III for keeping skin and tissues lubricated and firm. Collagen Powder provides a 30 day supply of 10000 mg collagen per serving.
Recommended daily dose: 10 gr (2 spoons) per day.
Ingredients: pure hydrolyzed fish collagen types 1 and 3 (hydrolyzed collagen contains amino acids: L-glycine, L-proline, L-alanine, L-hydroxyproline, L-glutamic acid, L-arginine, L-aspartic acid, L-serine. , L-lysine, L-leucine, L-isoleucine, L-threonine, L-phenylalanine, L-isoleucine, L-hydroxylysine, L-methionine, L-histidine, L-tyrosine, L-cysteine).
Warnings:
Do not exceed the recommended daily dose!
Do not use the supplement as a substitute for a varied diet!
Keep the product out of the reach of children!
If you are pregnant or breastfeeding, are taking any medication or have a medical condition, consult a healthcare professional before use. Food supplements should not be used as a substitute for a healthy, balanced diet.

Comments: natural collagen flavor, non GMO, gluten and sugar free, no yeast.

Net quantity: 300 gr.
Best before: look at the packaging.
Manufacturer: Swedish Nutra, Sofiedalsvägen 10, 23837 Oxie, Sweden.
Distributor: Joy of Life OÜ, www.joyoflife.ee
Similar products