Soodus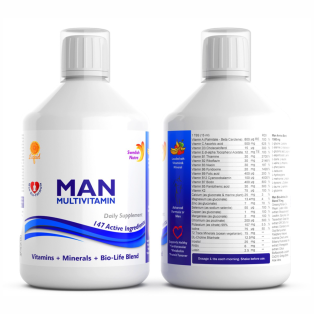 Man multivitamin 100% natural flavour
SKU:
SNMM
EAN:
7308956471244
Brand:

Qty:
4
Truthfully I was surprised at the impact this vitamin had on my daily life. I am more alert and feel great.
Man multivitamin 500 ml.
Food supplement with sweetener
Recommended daily dose: 15 ml every morning, shake well before use. Vitamin A 800 mcg RE (100% NRV), vitamin C 500 mg (625% NRV), vitamin D3 15 mcg (300% NRV), vitamin E 12 mg (100% NRV), vitamin B1 30 mg (2700% NRV), vitamin B2 - 30 mg (2148% NRV), vitamin B3 - 30 mg (187% NRV), vitamin B6 - 20 mg (1428% NRV), vitamin B9 - 400 μg (200% NRV), vitamin B12 - 100 mcg (4000% NRV), vitamin B7 - 400 mcg (800% NRV), vitamin B5 - 30 mg (500% NRV), vitamin K - 75 mcg (100% NRV), calcium - 45 mg (3 % NRV), magnesium 13.4 mg (4% NRV), zinc 7 mg (70% NRV), selenium 55 mcg (100% NRV), copper 1000 mcg (100% NRV), manganese 2 mg (100% NRV) , chromium picolinate 200 mcg (500% NRV), potassium 107 mg (5.5% NRV), iodine 75 mcg (50% NRV), 72 minerals (ocean vegetarian food) 25 mg, choline 12.5 mg, inositol - 25 mg, final (4-aminobenzoic acid) - 6 mg.
Ingredients: pure multi-filtered water for better collagen, vitamins and nutrients, hydrolyzed collagen contains amino acids: L-glycine, L-proline, L-alanine, L-hydroxyproline, L-glutamic acid, L-arginine, L-aspartic acid. acid, L-serine, L-lysine, L-leucine, L-valine, L-threonine, L-phenylalanine, L-isoleucine, L-hydroxylysine, L-methionine, L-histidine, L-tyrosine, L-cysteine) , zinc gluconate, Meyer's common ginseng, caffeine anhydrous, freshness preservative (potassium sorbate, sodium benzoate), choline, L-bitartrate, zeaxanthin powder, emulsifier (xanthan gum), d-calcium pantothenate, thiamine hcl, riboflavin, niaoxinamide , inositol, hcl manganese gluconate, L-taurine, L-carnitine, L-glutamine, colecalciferol, lutein, flavor (natural vanilla), 4-aminobenzoic acid, copper gluconate, chromium picolinate, folic acid, sweetener (glucoside, steviol powder) alfalfa, alfalfa powder, spirulina powder, green tea powder, grape seed powder, cranberry powder, goji berry powder, raspberry powder, acerola acerola powder, blueberry powder, acai powder, pomegranate powder, citrus bioflavonoid powder, red beetroot powder, lycopene powder , CoQ10 ubi biloba powder, remedy to keep fresh aloe vera powder (malic acid, citric acid), d-biotin, retinyl palmitate, potassium iodide, beta-carotene, menaquinone, sodium and hydrochloric acid, cyano balamin.
Warnings:
Do not exceed the recommended daily dose!
Do not use the supplement as a substitute for a varied diet!
Keep the product out of the reach of children!
Comments: No GMO, no gluten, no soy, no egg, no nuts and no milk. 100% natural taste and color.

Net quantity: 500 ml.
Expiration date: see the package.
Manufacturer: Swedish Nutra, Sofiedalsvägen 10 23837 Oxie Sweden.
Distributor: Joy of Life OÜ, www.joyoflife.ee
Similar products