Soodus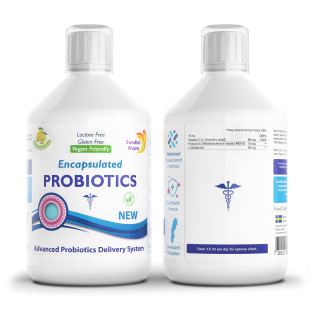 Probiotics liquid food supplement
SKU:
SNPB
EAN:
7350122360463
Qty:
5
Delivery time:
2 - 7 tööpäeva jooksul
Probiotics are microencapsulated for immune health and gastrointestinal disorders.
Probiotics
Liquid food supplement with sweetener
Flavour: Natural Lemon
Recommended daily dose: 15 ml every morning, shake well before use. Can be taken as an injection or mixed with 2 dl of liquid. Vitamin C (L-ascorbic acid) 80 mg (DRI 100%), probiotics (Bifidobacterium lactis HN019) 10 mg, L-glutamine 50 mg. Can be used within 33 days.
Ingredients: multi filtered water, bifidobacterium lactis HN019, vitamin c, l-glutamine, acidity regulator (citric acid), natural lemon flavor, natural yellow color (curcumin), freshness preserver (potassium sorbate, sodium benzoate), sweetener (steviol glycosides).
Warnings:
Do not exceed the recommended daily dose!
Do not use the supplement as a substitute for a varied diet!
Keep the product out of the reach of children!
Comments: non-GMO and free from wheat, gluten, soya, egg, nuts. If you have any medical conditions or if you are pregnant or breast-feeding, talk to your healthcare provider before making any recommendations. Discontinue use if side effects occur.
Swedish Nutra probiotics (Bifidobacterium lactis HN019) are microencapsulated to survive the intestinal gastric acids to reach the small intestine and colonize for appropriate support of immune health and prevention and management of several gastrointestinal disorders.
Storage: Store in a cool place out of direct sunlight. Store in the refrigerator after opening. Use within 2 months of opening.
Net volume: 500 ml.
Best before: Look at the packaging.
Manufacturer: Swedish Nutra, Sofiedalsvägen 10, 23837 Oxie, Sweden.
Distributor: Joy of Life OÜ, www.joyoflife.ee
Similar products