Soodus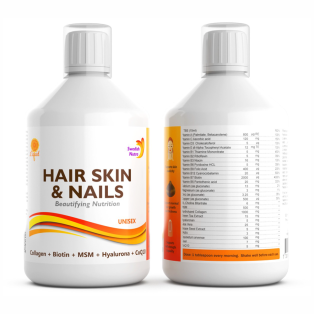 Hair, Skin & Nails Multivitamin
SKU:
SNHS
Brand:

Qty:
13
The Hair, Skin & Nails supplement is fantastic. Your hair will grow fast, thick and shiny.
Hair, Skin & Nails Multivitamin
Food supplement with sweetener
Recommended daily dose: 15 ml every morning, shake well before use. Vitamin A - 800 μg RE (100% NRV), vitamin C - 120 mg (200% NRV), vitamin D3 - 5 μg (100% NRV), vitamin E - 12 mg (100% NRV), vitamin B1 - 5 mg (450% NRV), vitamin B2 - 5 mg (358% NRV), vitamin B3 - 16 mg (100% NRV), vitamin B6 - 5 mg (358% NRV), vitamin B9 - 400 mcg (200% NRV), vitamin B12 - 20 μg (200% NRV), vitamin B7 - 5000 μg (10000% NRV), vitamin B5 - 20 mg (333% NRV), calcium - 13 mg (1.5% NRV), magnesium - 3 mg ( 1% NRV), zinc 3.25 mg (32.5% NRV), copper 500 mcg (50% NRV), choline 6 mg, MSM methylsulfonylmethane 500 mg, hyaluronic acid 5 mg, ubiquinone COQ10 5 mg, hydrolyzed collagen (bovine ) 1000 mg, aloe vera 25 mg, green tea powder 15 mg, grape seed powder 5 mg, rib (4-aminobenzoic acid) 3 mg (100% NRV).
Ingredients: multifiltered water, juicy mixture of concentrates; orange, apple, tangerine, guava, papaya, lime, mango, pineapple, grape, sweetener (fructose), hydrolyzed collagen (contains amino acids: L-glycine, L-proline, L-alanine, L-hydroxyproline, L-glutamic acid. , L-arginine, L-aspartic acid, L-serine, L-lysine, L-leucine, L-isoleucine, L-threonine, L-phenylalanine, L-isoleucine, L-hydroxylysine, L-methionine, L-histidine, L - tyrosine, L-cysteine), methylsulfonylmethane, calcium gluconate, l-ascorbic acid, freshness preservative (citric acid, malic acid), magnesium gluconate, zinc gluconate, dl-alpha-tocopheryl acetate, pantothenic acid, sodium azide, freshness preservative ( natural orange, natural strawberry), choline, L-bitartrate, ubiquinone CoQ10, biotin, pyridoxine hydrochloride, riboflavin, thiamine hydrochloride, aminobenzoic acid, retinyl palmitate, cholecalciferol, copper gluconate, emulsifier (xanthan sodium gum powder, powder) grape seed powder, azocyclotin, qig powder exatina arvens, beta-carotene, flavor (natural vanilla), folic acid, cyanocobalamin.
Warnings:
Do not exceed the recommended daily dose!
Do not use the supplement as a substitute for a varied diet!
Keep the product out of the reach of children!
Comments: Non-GMO, free of wheat gluten, soy, egg, tree nuts and milk. 100% NRV natural taste and natural color.

Net volume: 500 ml.
Expiration date: see the package.
Manufacturer: Swedish Nutra, Sofiedalsvägen 10, 23837 Oxie, Sweden.
Distributor: Joy of Life OÜ, www.joyoflife.ee
Similar products