Soodus
Uus toode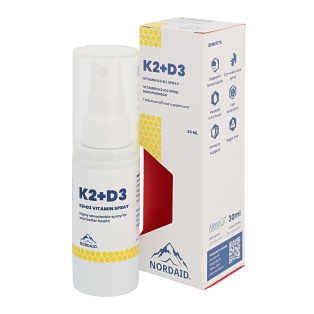 Nordaid K2+D3 Vitamin Convenient Oral Sprey
SKU:
NOKD
EAN:
4744272010416
Brand:

Unit:
tk.
Qty:
11
With a pleasant taste, good for the heart, easily absorbed and quickly absorbed.
NORDAID K2+D3VITAMIN CONVETENT ORAL SPRAY
Food supplement with sweetener

Product instruction:

Taking vitamin K2 has a positive effect on heart health, it reduces the risk of heart disease by 50%. Vitamin K2 is also very important for the development of children's bones during their growing years. Vitamin D supports the normal functioning of the immune system, which is extremely necessary these days. In addition, vitamin D helps keep bones, teeth and muscles strong.
Nordaid K2+D3 spray contains the clinically proven and patented bioactive vitamin K2 form MenaQ7® with the best absorption as an active ingredient.
200 sprays in a bottle, which makes the price of a dose very cheap.
Nordaid's K2+D3 vitamin spray is easily absorbed, as it reaches the bloodstream immediately through the oral mucosa. Vitamin D helps keep bones and teeth strong and supports the normal functioning of the immune system. Vitamin K contributes to normal blood clotting and keeps bones normal.
Using:
When using for the first time, press the spray pump 3-4 times so that the liquid starts to come out. Shake well before each use. Spray one spray under the tongue or on the inside of the cheek. After use, place the cap on the spray nozzle and keep the bottle in an upright position. If the product has not been used for a long time, the nozzle may become clogged. Hold the bottle under warm water to remove the clog.
Ingredients:
Purified water, fructose, gum arabic, lemon juice concentrate, vitamin D3 (cholecalciferol), potassium sorbate (preservative), sunflower lecithin, peppermint essential oil (Mentha Arvensis), xanthan gum, vitamin E (acetate), vitamin K2 (menaquinone).
Content:

Adults: a daily dose of 2 sprays contains 4000 IU /100 µg (2000%*) of vitamin D3 and 100 µg of vitamin K2 (133%).Do not give to children under 3 years of age.
Do not use if you are taking anticoagulants (blood thinners).
* Percentage of daily reference amount for adults.
Attention!
A food supplement does not replace a versatile and balanced diet and a healthy lifestyle. Do not exceed the recommended amount for daily consumption. Keep out of the reach of children. Store at room temperature, protected from direct sunlight. The best before date applies to undamaged packaging and product stored according to requirements.
Manufacturer: Nordaid OÜ, Härgmäe 22/5, Tallinn 13525, Estonia.



Similar products