Soodus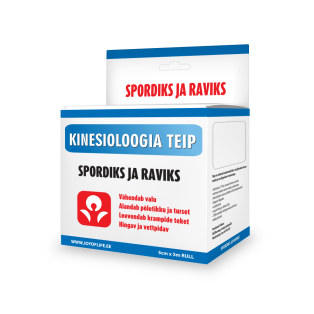 Kinesiologia tape new generation preparation
Price:
From 12,40 €
10,54 €
SKU:
KT
Brand:

Qty:
217
Kinesiologia tape - new generation preparation. Reduces pain, swelling and inflammation.
Kinesiologia tape
MSA code: 11328
Kinesio tape and the special kinesio taping method were devised more than 30 years ago in Japan by dr. Kenzo Kase to support natural healing processes in the body. The created elastic and skin friendly tape promotes restoration and healing, while supporting muscle and joint movement. Kinesio taping has been proven to be an efficient treatment method and it is widely used in sports medicine and physiotherapy around the world.
Properties:
Made 100% of cotton, covered with acrylic adhesive;
Latex free – skin friendly and non-allergenic;
Up to 180% elasticity, allows the skin to breathe;
Thickness and weight are similar to those of the skin;
Does not restrict movement like regular sports tape;
Water-resistant and sweat-proof – stays on the skin when exercising and after showering;
Stays on the skin for several days. Available in a variety of colors.
How does it work: How can something that does not contain any medication be this effective in alleviating pain, inflammation, and swelling? The efficiency of the tape relates to how it affects the skin, nerves near the surface of the skin, and lymphatic circulation in the injured area.
If a muscle is overstressed or injured, it becomes inflammatory and swollen. A swollen muscle exerts pressure on the skin from the inside, resulting in retardation of the compressed lymphatic circulation. Accumulating lymph fluid activates the pain receptors, resulting in a sensation of pain that weakens the damaged muscles and slows the healing process.
A kinesio tape placed on the muscle in an extended position results in wrinkles in the tape and the skin under it upon placing the muscle in its normal position. The wrinkles elevate the skin, increasing free space between the skin and tissues under the skin. As a result, lymphatic circulation improves and the spontaneous healing process accelerates. Kinesio tape placed on the muscle makes swelling go down, pain is reduced, and the strength and elasticity related properties of the muscle are improved. A number of scientific studies have proven the efficiency on the kinesio tape!
Useful effect: Reduces pain, inflammation, and swelling, prevents and/or alleviates cramps, accelerates healing of overstressed muscles, helps restore muscle length, strength, and tone, supports muscles/joints without restricting their range of motion, enables continued exercising if otherwise restricted by injury.
Use: Kinesio taping is mainly used to prevent and treat sports injuries. Suitable for use for both professional athletes and recreational athletes seeking to continue exercising even if a sports injury might strongly affect their results. Kinesio tape is also perfectly suited for people whose work requires forced positions, resulting in muscle tension.
Manufacturer:
Wuxi WeMade Healthcare Product Company Ltd.
No. 1060, Antai 3 rd Road, Houqiao Street, 214105 Wuxi City, Xishan District, China, Jiangsu Province
+ 86-510-81155706
Authorized representative:
Sungo Certification Company Ltd.
RM 101, Maple House, 118 High Street, London, England
+ 44 2033 750424
Distributor: Joy of Life OÜ, www.joyoflife.ee
Similar products