Soodus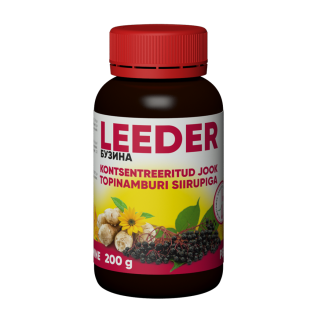 Black elderberry with artichoke syrup
SKU:
LEED
EAN:
4603745952175
Qty:
13
Southern berry. No sugar, no heat treatment, no honey, no preservatives and dyes.
Black elderberry with Jerusalem artichoke syrup - no sugar, no honey, no heat treatment, no preservatives.
Black elderberry with Jerusalem artichoke syrup (without sugar) is a unique product! BLACK ELDER is a southern berry known for its healing properties. To prepare the syrup, ripe black elderberries are harvested by hand, which contain vitamins, trace elements and biologically active substances: vitamins A, C, E, P; glucose, ascorbic acid, fructose, carotene, free acids, organic acids, pectins and natural sugars.
Black elderberry syrup is made using a special modern technology without heat treatment, without adding preservatives and dyes. The effectiveness is increased by Jerusalem artichoke syrup, prepared without sugar and at a temperature of about 30 degrees. And these are additional vitamins: C - 3.1 mg., B1 - 0.01 mg., B2 - 0.02 mg., PP - 1.05 mg., Etc. And also trace elements contained in Jerusalem artichoke: Potassium - 110 mg., Magnesium - 10.4 mg., Calcium - 18.5 mg., etc. It is a problem solution for those suffering from diabetes, obesity and cancer.
Regular consumption of black elderberry syrup will provide powerful immune support, strengthen the nervous system and increase hemoglobin. Adults will appreciate, and children will undoubtedly love this delicious, healthy and 100% natural product!
For a long time, folk healers have used the amazing properties of black elderberry as an effective immunostimulating, antitumor and blood-purifying agent. In the Middle Ages, there was a belief that the black elderberry has magical powers, and the richest composition of biological substances of the black elderberry has a rejuvenating effect on the human body, prolongs life and improves its quality.
Black elderberry fruits are rich in natural sugars, carotene, rutin, tyrosine, essential oils, natural acids. Ripe black elderberries contain especially a lot of ascorbic acid (vitamin C), which leads to a powerful prevention of infectious and viral diseases associated with a decrease in immunity. Black elderberry is a medicinal plant, in contrast to red elderberry, which is quite poisonous. Due to the ability of elderberry berries to raise vitality, the plant was nicknamed "the tree of longevity." Biologically active components contained in elderberry restrain the appearance of pathogenic microorganisms.
During the First World War, soldiers were given elderberry wine to reduce the damaging effect of chemical toxic substances on the lungs.
In medical practice, condensed berry juice was used to relieve trigeminal pain. Elderberry syrup is also useful for hemorrhoids, varicose veins, chronic constipation. Its use increases the hemoglobin content in the blood, counteracts the accumulation of pleural fluid in respiratory diseases.
Technologists of our company have developed a recipe for elderberry syrup without heat treatment, without the use of sugar, without the addition of preservatives and other components that impair the quality of the product. No boiling or boiling! This made it possible to increase the benefits of the syrup, expand the range of its use without restrictions. Elderberry syrup can now be taken by people with diabetes.
It is a strong biologically active substance that has a diaphoretic, antipyretic and expectorant effect and is indispensable for flu and colds, coughs and bronchitis, tonsillitis and tonsillitis. Black elderberry syrup improves bowel function, helps to cleanse it, normalizes stool, in addition, optimizes the nervous system of adults and children. Enhances visual acuity.
The antitumor activity of black elderberry has been proven. The use of the syrup provides reliable prevention of the development of oncological processes, prevents the development of relapses after undergoing operations and helps to cleanse the body of tumor decay products.
Application: neat or diluted in a little water after meals.

Dosage for adults: 1 teaspoon 3-4 times a day.
Dosage for children 2-8 years old: 1/2 teaspoon 2-3 times a day.
To strengthen immunity and prevent acute respiratory infections, you should take elderberry syrup prophylactically 2 times a year for 1 month.

In case of diseases of the blood, lymph, hemorrhoids, anemia, pneumonia, tumors, metabolic disorders, as well as to improve vision, black elderberry syrup should be taken in a course of at least 3 months.

It is also recommended to take elderberry syrup on time, or after a course of drug treatment to restore the body and reduce the side effects of synthetic drugs.

Ingredients: black elderberry, Jerusalem artichoke syrup.

Contraindications: not recommended for children under 2 years of age.
When calculating the number of syrup bottles per course, use the following information. 1 teaspoon contains about 4 ml of syrup. Thus, one bottle of syrup 200 g is enough for about 16 days of taking a teaspoon 3 times a day.
Energy value per 100 g: 185 kcal.
Storage conditions: at temperatures from 4 to 20 C and at a relative humidity of no more than 75% in a dry, dark place. Storage period
Net weight: 200 g.
Country of Origin: Russia.
Distributor for the EU: Joy of Life OÜ.
Similar products