Soodus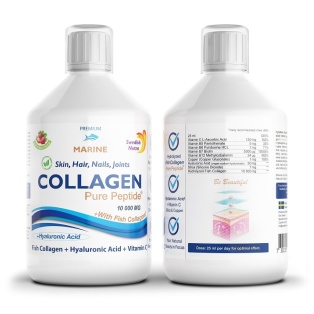 Collagen 10 000 Fish 100% natural flavour
SKU:
SNCF 10000
EAN:
7301337278319
Brand:

Qty:
0
Collagen Pure Peptide using keep your hair, skin and nails healthy, younger, thick and vibrant.
Fish collagen 10000
Liquid food supplement with sweetener

Recommended daily dose: 25 ml per day, shake well before use. Vitamin C - 120 mg (150% NRV), vitamin B5 - 5 mg (30% NRV), vitamin B6 - 1 mg (71% NRV), vitamin B7 - 5000 mcg (10000% NRV), vitamin B12 - 24 mcg ( 960% NRV), copper 1 mg (100% NRV), hyaluronic acid 50 mg, silicon 7 mg, hydrolyzed collagen (fish) 10,000 mg.
Ingredients: multi-filtered water, juicy mixture of concentrates; orange, apple, tangerine, guava, papaya, lime, mango, pineapple, grape, hydrolyzed collagen types 1 and 3 (hydrolyzed collagen contains amino acids: L-glycine, L-proline, L-alanine, L-hydroxyproline, L-glutamic acid , L-arginine, L-aspartic acid, L-serine, L-lysine, L-leucine, L-isoleucine, L-threonine, L-phenylalanine, L-isoleucine, L-hydroxylysine, L-methionine, L-histidine, L-tyrosine, L-cysteine), sweetener (fructose), l-ascorbic acid, flavor (natural strawberry), natural color (purple, potato powder), emulsifier (xanthan gum), freshness preserver (potassium sorbate, sodium benzoate), copper gluconate, sodium hyaluronate d-calcium pantothenate, silicon dioxide), d-biotin, pyridoxine hydrochloride, acidity regulator (citric acid, malic acid), sweetener (steviol glycoside), methylcobalamin.
Warnings:
Do not exceed the recommended daily dose!
Do not use the supplement as a substitute for a varied diet!
Keep the product out of the reach of children!

Comments: No GMO, no gluten, no soy, no egg, no nuts and no milk. 100% natural taste and color. Net quantity: 500 ml. Expiration date: see the package.
Storage: Store in a cool place out of direct sunlight. Store in the refrigerator after opening. Use within 2 months of opening.
Net volume: 500 ml.
Best before: Look at the packaging.
Manufacturer: Swedish Nutra, Sofiedalsvägen 10, 23837 Oxie, Sweden.
Distributor: Joy of Life OÜ, www.joyoflife.ee

Similar products