Soodus
Uus toode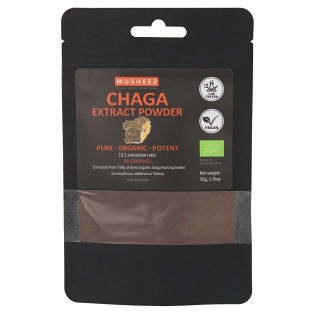 Musheez organic chaga extract powder
SKU:
OCEP50
EAN:
4745010244223
Brand:

Unit:
tk.
Qty:
3
Pure concentrate and super-convenient food supplement by functionality for your body. An excellent for your health.
Musheez organic chaga extract powder is a pure and potent food supplement.
Hot water and alcohol (dual) extracted from wild harvested chaga

Fine powder suitable for encapsulation or as soluble ingredient

Contains both water and non-water soluble compounds

99.9% water soluble

EU Certified organic

Gluten-Free, Non-GMO, Vegan

>20% Betaglucans 1,3/1,6

No added starch, grain or other fillers

Not cultivated chaga, only wild harvested conks used

50 grams = 50 servings

Premium quality. Tested at 3rd party accredited labs

Potent 15:1 extraction ratio (15g of raw dried organic chaga makes 1g of extract)
Ingredients: extract of black sedge (Inonotus obllguus). From certified organic farming.
Dosage for adults: 1/2 teaspoon or 1 gram once or twice a day.
Use: add to warm (not boiling) or cold water.
Warnings: Do not use the supplement as a substitute for a varied diet. Do not exceed the amount prescribed for daily consumption. Keep out of the reach of children. The product is not suitable for children or pregnant and lactating women. Avoid consuming the product if there is a risk of kidney stones or bleeding disorders.
Best before: see package.
Net quantity: 100 ml.
Manufacturer: Natural Chaga OÜ, Kõrve, Pillapalu, Estonia.
Distributor: Joy of Life OÜ, www.joyoflife.ee
Similar products