Soodus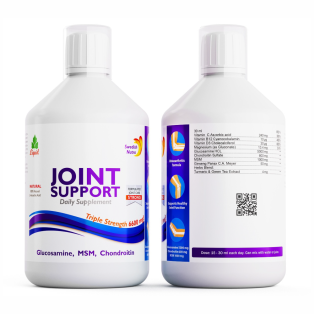 Joint Support multivitamin
SKU:
SNJS
EAN:
7308829100936
Brand:

Qty:
11
Joint Support is the best natural product for healthy supporting joints functions on the market.
Joint Support multivitamin
Food supplement with sweetener

Recommended daily dose: 15 ml every night, shake well before use. Vitamin C 120 mg (150% NRV), Vitamin B12 5 mcg (200% NRV), Vitamin D3 15 mcg (300% NRV), Herbal Blend 2 mg, Turmeric 1 mg (root, stem curcuma longa * *), green tea powder - 1 mg (camellia chinese leaves), patented common mixture - 6000 mg, hydrolyzed collagen - 5000 mg, methylsulfonylmethane - 250 mg, glucosamine sulfate - 250 mg, chondroitin sulfate - 250 mg, L-carnitine - 250 mg.
Ingredients: pure multi-filtered water for better collagen, vitamins and nutrients, hydrolyzed collagen contains amino acids: L-glycine, L-proline, L-alanine, L-hydroxyproline, L-glutamic acid, L-arginine, L-aspartic acid, L -serine, L-lysine, L-leucine, L-valine, L-threonine, L-phenylalanine, L-isoleucine, L-hydroxylysine, L-methionine, L-histidine, L-tyrosine, L-cysteine), acidity regulator (malic acid, citric acid), methylsulfonylmethane, glucosamine sulfate, chondroitin sulfate, L-carnitine, ascorbic acid, freshness preservative (potassium sorbate, sodium benzoate), flavor (natural fruit), turmeric xanthan, dandelion (natural purple potato extract) , emulator tea powder, sweetener (steviol glycoside), colecalciferol, cyanocobalamin.
Warnings:
Do not exceed the recommended daily dose!
Do not use the supplement as a substitute for a varied diet!
Keep the product out of the reach of children!
Comments: Non-GMO, no wheat gluten, soy, egg, tree nuts or milk. 100% NRV natural taste and color.

Net quantity: 500 ml.
Best before: look at the packaging.
Manufacturer: Swedish Nutra, Sofiedalsvägen 10, 23837 Oxie, Sweden.
Distributor: Joy of Life OÜ, www.joyoflife.ee
Similar products