Soodus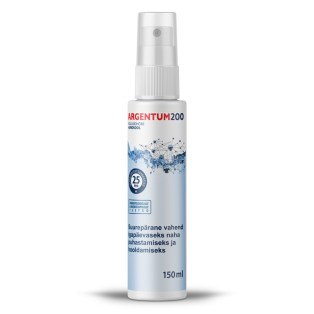 Colloidal Silver - Argentum200
SKU:
KHAE
EAN:
5901658682549
Qty:
85
Wide range of application. Helps fight herpes and pimples. Helps alleviate bug bites.
Colloidal Silver
Spray 150 ml.

Argentum200 spray boasts high 25 ppm silver content. Made using only demineralized water, the product suits all skin types. Use this product regularly to cleanse and refresh your skin, to ensure premium skin care and efficiently fight skin problems. Helps fight acne. Safe for use on sensitive skin.
Effect:
Cleanses and cares for your skin;
Alleviates skin irritation and redness;
Keeps the skin clean and gives a mat complexion;
Regulates excessive perspiration and sebum secretion;
Helps fight pimples.
Application:
Direct the spray toward your face and spray product on the skin.
You may wipe the skin gently, using a cosmetic pad.
For best results, use morning and night.
Do not use if pregnant or if you are allergic to silver.
Storage:
Store in a dry and cool place.
Keep away from direct sunlight.
Do not freeze. Keep away from electromagnetic radiation sources.
Composition: Water, colloidal silver.
Best before: see package.
Distributor: Joy of Life OÜ.

Made in: Poland.
Similar products